Customer Reviews
I recommend this product
I feel like wearing it 24/7
I am very satisfied with the products and do not even take off the set. I've washed the pieces a few times now and they still feel just as good as when they were worn for the first time. The material is really great and the set is made of super high quality. I am sure that I will wear it for many years. I've never had such beautiful loungwear!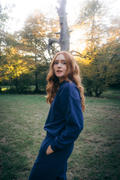 I recommend this product
Love this sweatshirt
Love this sweatshirt. It fits great and is super comfortable. I purchased the navy blue and upon receiving it, noticed it seemed a more vibrant blue than what is pictured here. After several washes, it does look like the blue has faded a bit. Which is fine by me, I prefer it this color. I will probably order other colors.
Impressed by the fabric
Got it because of my favourite colour. Never thought that such an innovative fabric would be so baby-skin soft. For the absolute comfort I would prob add a hoodie since I'm a huge fan of such, but other than that this sweatshirt fits nicely, has a bit of oversized structure so I layer it with some tops underneath.